Michele Cozzens, PDGA #4171, started playing tournament golf in the late 1980s, before there was anything for women other than a "women's division." She learned from the best, including David Welty, Peter Sontag, Glen Whitlock, Marty Hapner, Merle Witvot, Dr. Stancil Johnson, Bob Montes, Amye Rosenthal, Lynn Warren, Beth Verish, Anni Kreml, of course her husband, Mike Cozzens, and Steady Ed Headrick himself. In 1991, Headrick named Michele an "Ambassador" of the sport and sent her on her trip to Kenya with a bag full of blue DGA prototype discs with instructions to "bring the sport to Africa." (Pictured below). She has been teaching people how to play disc golf ever since.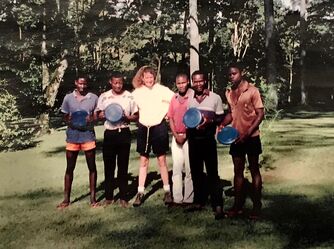 In 1993 she and Mike created the world's first disc golf resort, Sandy Point Resort and Disc Golf Ranch in Lac du Flambeau. Their mission has been to grow the sport locally and throughout the state of Wisconsin. Michele spends the summer season not only teaching newcomers how to play but also how to chose the right equipment. She has been assistant tournament director for the Northwoods Open since 1994 and tournament director of the Sandy Point Team Invitational from 1995-2003 and assistant tournament director for this event since 2012. She is a member and curator of the Wisconsin Disc Golf Hall of Fame--maintaining the facility along with collecting and displaying donated and contributed items--and inviting people to visit the Hall of Fame while on the Sandy Point property. Hundreds of people each summer visit the Wisconsin Disc Golf Hall of Fame.  Flickr Photos
Write the first section of your page here.
Section heading
Write the second section of your page here.