Sheboygan Eagles Disc Golf Club is an organization whose drive is the promotion and growth of disc golf in the Sheboygan and surrounding area communities. Developing a positive image of the sport and its players in the community while building character and skills among its members is a focus of the club. Sheboygan Eagles will be involved with hosting leagues, tournaments, and work days to allow players to compete, have fun, and contribute to the course development and maintenance.
Sheboygan Eagles History
Edit
Prompted by Dennis & Patti of "The Shack" Brandon Ray Watson took the off season prior to 2014 to develop the Sheboygan Eagles DGC with his inaugural leadership team to include Andrew Schultz VP, Kris Fredrichsen Treasurer, Jake McKnight Membership Director, and Lauren Braaksma Treasurer. The club quickly gained support of local businesses as supporters and sponsors and was able to host a few fundraisers to get things rolling.
What are we doing?
Edit
Sheboygan Eagles DGC is dedicated to community service and growth of the sport. Beyond course work the club has participated in events like Miesfeld's Lakeshore Weekend a festival dedicated to raising funds for Children's Hospital of WI where they ran a putting game used to introduce new individuals to the sport and raise funds for the cause.
The Eagles took over managing the Pickle Open - Michael Oscar Mueller Memorial tournament in 2015 and saw the event fill with very positive feedback in their first year handling the event under Tournament Director and Club President Brandon Ray Watson. The club plans to continue to manage the Pickle Open event for years to come. The Pickle Open is one of the original tour stops and draws some of the great players in the sport history using the oldest course in the state Vollrath Park as its venue.
Sheboygan Eagles have held clinics and work to mentor youth in both the sport and character. In 2015 World Champ Cam Todd and his lovely wife Leslie visited to put on an informative clinic the week of the Silver Cup. The club hopes to bring more touring pros to the area in the future.
The club has brought Dynamic Discs RV to run 2 Disc Challenges and promote the sport to the area.
In 2015 the Eagles hosted two 10 week PDGA sanctioned leagues at Vollrath Park to help amateurs in the area generate PDGA points to get invited to the 2016 PDGA AM Worlds to be held in Madison, WI. We were able to introduce new players to competitive play, teach the rules and regulations to competitive play, and give players the chance to dial in their skills.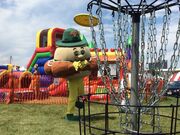 Community content is available under
CC-BY-SA
unless otherwise noted.